The National Agro-Forestry Fisheries Quality Assurance (Nafiqad) under the Ministry of Agriculture and Rural Development has asked Russia to ease restrictions on Vietnamese seafood exports to the Eurasian Economic Community.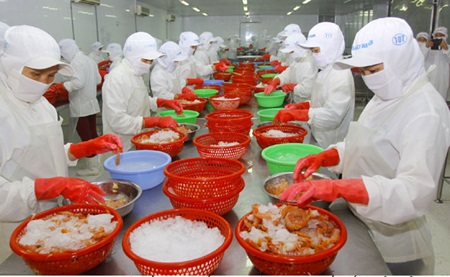 Russia now only allows Vietnamese seafood enterprises with existing contracts to export to the market. This means only 64 of the 102 enterprises that meet food safety standards are allowed to export to Russia because the others have no valid contracts.
The Nafiqad request came following food safety inspections of Russia's Federal Service for Veterinary and Phytosanitary Surveillance (FSVPS) last month.
The director of a seafood company that failed to enter into a contract with a Russian importer said it would be easier for the company to find an importer if it were allowed to export to the market.
This was the first time the director visited Russia to seek export opportunities, but he failed to find an importer who would sign a contract.
However, if the company met food safety and technical standards, there was no reason to bar it from exporting to the market, the director added.
Nafiqad also asked the FSVPS to support it in popularising information on food safety regulations from the Customs Union of Belarus, Kazakhstan and Russia among food safety management agencies and seafood producers.
The economic sanctions that the United States and European Union recently imposed on Russia have caused a serious shortage of seafood products and a sharp increase in prices in the Russian market, economic analysts said.
The sanctions have created huge opportunities for other seafood providers, including Viet Nam. The country's key seafood export products to Russia are tra fish, basa fish, shrimp and mackerel.
However, Viet Nam only exported US$61.3 million worth of seafood products to Russia in the first nine months of 2014, according to the General Department of Customs (GDC).
The modest figure is attributed to Russian's high food hygiene criteria, as well as the failure of some Vietnamese exporters to find importers willing to sign valid contracts.
To boost their exports to Russia, Vietnamese seafood enterprises need to overcome non-tariff barriers, including origin, quality standards, food hygiene and safety. The country should also increase trade promotion.
According to the GDC, Russia has been one of Viet Nam's leading trade partners for many years, with bilateral turnover reaching $2.21 billion in the first 10 months of 2014. Key Vietnamese export items include telephones and components, computers, electronic products and seafood, as well as garments and textiles, fruits and vegetables, along with coffee, pepper, and cashew nuts.
VNS/VNN